In order to receive news updates and fresh musical inputs in the morning and otherwise, I bought Sony's XDR-S100CD, a combined DAB- and FM-radio with CD-player. It's a good-looking piece of work that blends old and new design in a stylish manner.
The slot-in CD-player at the top contributes to the coolness, just as the fake wooden finish does. The stereo sound is good, although there could have been more focus on the treble.
Other features are programmable start, sleep timer, and alarm; pause and rewind of radio; RDS for FM-radio; electronic programme guide for downloading programme information; audio-in, line-out, and headphones-out; and support for both AC- and DC-operation.
With the DAB-tuner you get text scrolling across the large display, showing what's on now and what's up next. A nice feature, but the scrolling is so slow it will take ages to read off both composer, players and name of the piece. That's not the only thing slow; both the load time of the CD-player and the time it takes to change DAB-channels could have been less. These extra seconds aren't very annoying, though.
The dimensions of the radio are larger than I initially thought; in proper units it measures 25x34x14 centimetres. Two loudspeakers and a CD-player require their space. Anyway, it's an upright model and won't take much place on the table. It's marketed as "portable" since it's got a carrying handle and can run on batteries. However, with a mass of 4,1 kilograms you won't be carrying it around more than necessary.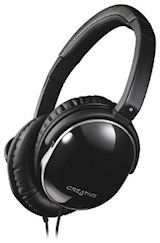 If you don't want to disturb with your noisy radio-listening, just fetch your favorite headphones and plug them in. For me that would be Creative's Aurvana Live!
. Neither super-cool nor ugly, they've got a sound that's better than indicated by the price, and they're so light you'll forget they're on you.
Sit back, relax, and tune in to a good radio station while making your morning tea, or turn on that great CD you recently bought. Too bad you soon have to leave for work.